Photo Contest Of International Students & Researchers 2020
2020-12-04
Affected by the COVID-19, the campus life is undergoing major changes, including online lessons, minimal face-to-face communication, and limited social activities.
We hold this photo contest to show what the international students and foreign researchers of Tokushima University have experienced and how they have responded to this situation.
Please take a look at the exhibited works and feel the thoughts of the international students and researchers. Then vote for your favorite photo with the QR code.
Photo Contest Exhibition "From Tokushima to the Future: My Lifestyle 2020"
Date and time: December 15-23, 2020 (9:00 to 17:00)
Location: Tokushima University Nichia Kaikan 1F Gallery Shinkura
2-24 Shinkura, Tokushima City
Admission: Free (no application required)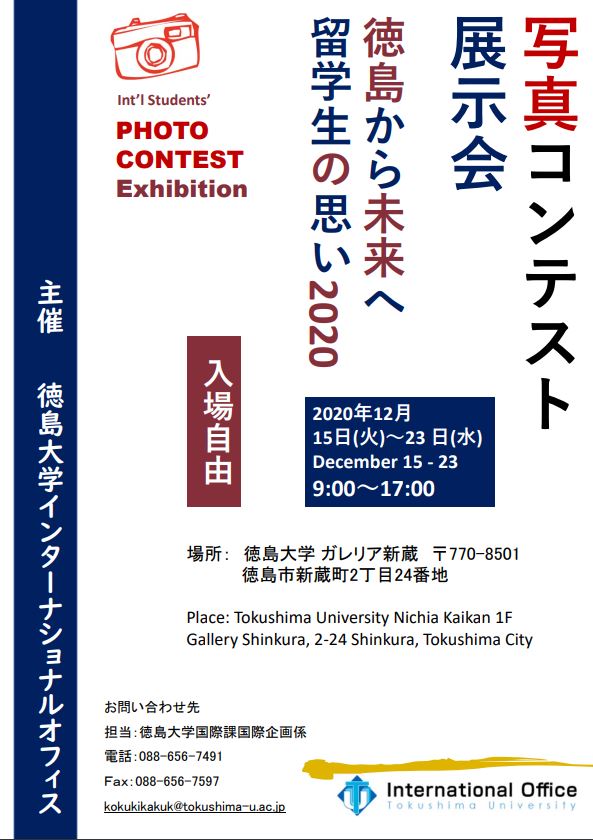 Contact
International Planning Section, International Affairs Division, Tokushima University
Phone: 088-656-7491
Fax: 088-656-7597
Email: kokukikakuk@tokushima-u.ac.jp