Guidance of Information Security for International Students and Foreign Researchers
2018-12-17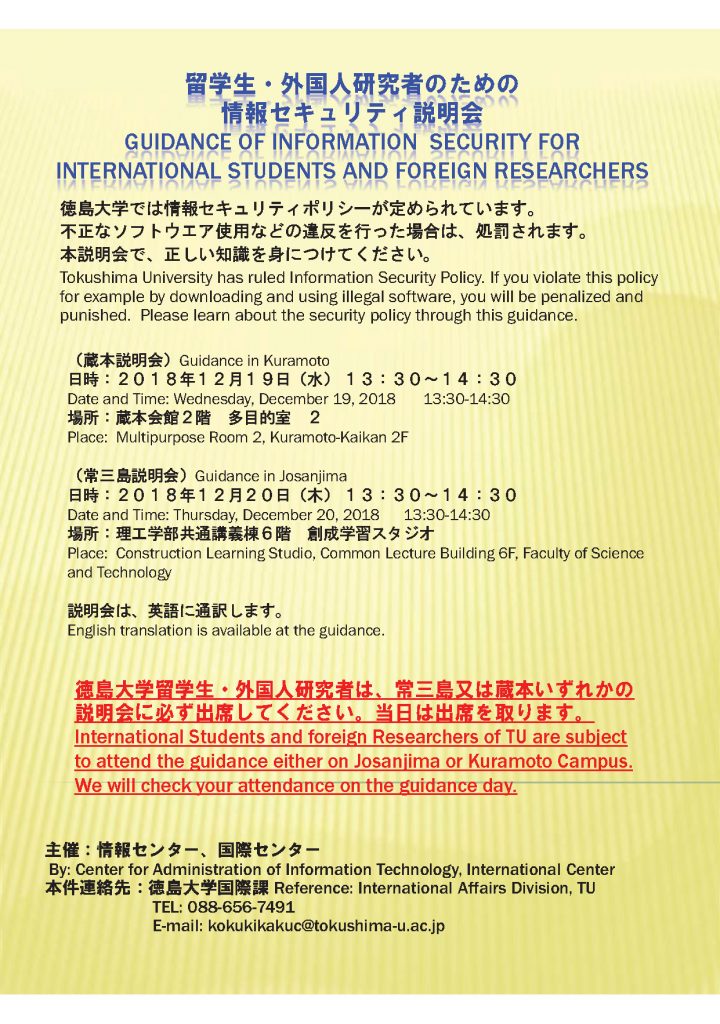 Tokushima University has ruled Information Security Policy. If you violate this policy for example by downloading and using illegal software, you will be penalized and punished. Please learn about the security policy through this guidance.
Guidance in Kuramoto
Date and Time: Wednesday, December 19, 2018       13:30-14:30
Place: Multipurpose Room 2, Kuramoto-Kaikan 2F
Guidance in Josanjima
Date and Time: Thursday, December 20, 2018     13:30-14:30
Place: Construction Learning Studio, Common Lecture Building 6F, Faculty of Science and Technology
English translation is available at the guidance.

International Students and foreign Researchers of TU are subject to attend the guidance either on Josanjima or Kuramoto Campus. We will check your attendance on the guidance day.

Provided by: Center for Administration of Information Technology, International Center    
Contact: International Affairs Division, TU
TEL: 088-656-7491
E-mail: kokukikakuc@tokushima-u.ac.jp